#
the pain journal
Life is my full time job, and the pay stinks. I feel like a prisoner on the rock pile, pounding big rocks into small. Not only is there no pay, but I'm beginning to wonder what's it all for, is it even worth it. Here's where I think the advantages of IV pain meds at home would greatly outweigh the dangers. At the rate I'm going I'm at a much higher risk of saying fuck it all. I need some damitall type of spark to smoothen out the rough edges so I can devote some time and energy to something else besides the constant body maintenance and the huge effort it takes to do something as simple as trying to get a decent night's sleep or getting up off the couch to take a shit without feeling like i just ran the fucking marathon….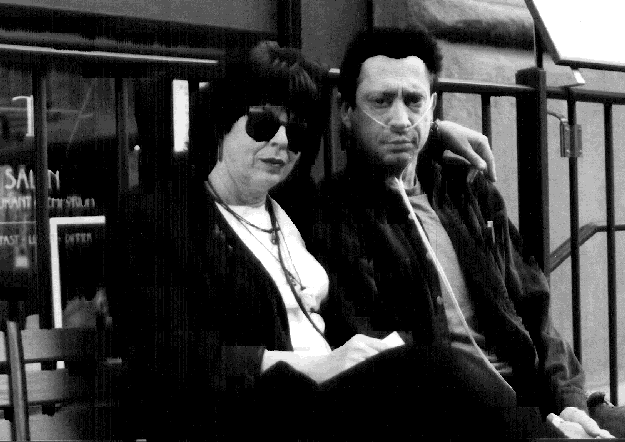 Bob Flanagan is a troubadour, a luminary, a figure unlike any before him. To me, he is undefinable and indescribable. His last piece of writing; The Pain Journal is an experience to read unlike any other.
The book concerns the last year of his life, amidst living with a terminal illness, maintaining a relationship with his wife, being the subject of a feature-length documentary. In between he tries to find the energy to create and contribute to his ongoing legacy of art and ideas.
 Born with Cystic Fibrosis, Bob's existence was permeated with illness. His ongoing fascination and exploration with S&M became a way of taking the control away from his illness and back into his own hand. Inflicting pain on himself became a form of empowerment, an act of creativity.
I'm interested in the way he uses and reflects on his experiences with pain. It became in many ways an exploration in self-medication, something he could control - as his body, most of the time, he could not.
The use of pain as a way of gaining control over a body powerless, on a certain trajectory towards a near death is remarkable, revolutionary. His will to submission, the act of giving in to pain and his master, becomes a worthy form of empowerment - the act of SM becomes for a time, a way to a new life, and a new body.
The Pain Journal is not always an easy read, as it is a journal of a steady path towards death, and this is not an easy thing to face - not matter the circumstances. Flanagan is seems to be accepting of the idea, writing himself a eulogy for use in the film about his life. He has survived without odds, and has strived to create, to love, and to live in ways many able-bodied people cannot.
What stands out amongst the many things Flanagan explores in his writings is his enduring love for his partner Sheree Rose– whose afterword in the book is truly incredible. The statement that stays with me is here:
Together we transformed shame and sorrow into a transcendent state that defies logic and reason and death
Through Bob's life and legacy, and his relationship with Sheree, we see that there are many depths to dying, and it is a progression, alike birth and the elements and stages in life. Bob's sheer act of trying to create amidst the everyday struggle of living enforces thoughts on creative motivation and the fact that for some artists and thinkers, the act of creating is a need rather than a want. For Bob it was certainly a need. 
This was posted 2 years ago. It has 0 notes.